Anatomical Atlas of Flies
We regret that we were unable to obtain permission from Adobe or Harman to include the Flash Player in a folder containing the '.swf' files that make up the Anatomical Atlas of Flies. This would have allowed users to download the folder to their computer and use the Atlas there.
Although the Anatomical Atlas of Drosophila melanogaster does not contain the four major groups of flies, it may prove to be of some use. The link to it is given here below.
https://www.ento.csiro.au/biology/drosophila/melanogaster.html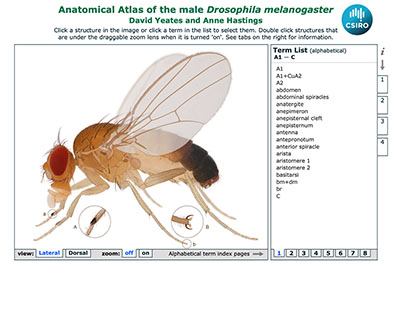 In the meantime, thank you for your support over the years and for the positive feedback we have received from users. Once again we are sorry we cannot continue to supply this resource.
Contact Us David.Yeates@csiro.au, Anne.Hastings@csiro.au