Hemiptera: bugs, aphids and cicadas
Characteristics
The insects in this order are extremely diverse in their size, shape and colour. There are about 6000 described species in Australia, ranging in size from 1 to 110 millimetres in length. The name Hemiptera means 'half wing' and all hemipterans share the following features: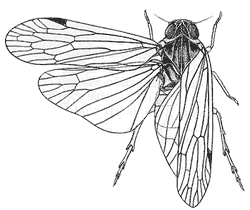 Oliarus lubra
2 pairs of wings, although some species may be wingless and others have only forewings. Wings are generally membranous but in some species the forewings may be hardened at the base
Antennae vary and may be either short, or long and conspicuous
The young of hemipterans look like small adults. Some bugs may be mistaken for beetles but can be distinguished by their mouthparts as beetles have mandibulate mouthparts while bugs have sucking/piercing mouthparts.
This order is divided into 3 suborders; true bugs (Heteroptera); hoppers (Auchenorrhyncha) and; aphids, scale insects, lerps and mealy bugs (Sternorrhyncha).
Heteroptera
The true bugs have forewings that are hardened at the base and membranous at the tips. They sit flat over the abdomen hiding the membranous hind wings. The head and proboscis can flex forward.

Auchenorrhyncha
The hoppers have forewings that are uniform in texture and are held like a tent over the abdomen. The head and proboscis point down and back.

Sternorrhyncha
Aphids, scale, lerps and mealy bugs usually have soft bodies and most species are wingless. Their heads and proboscis' point down and back. They often cover themselves with wax or froth which prevents their soft bodies from drying out.
Life Cycle
Hemipterans develop by incomplete metamorphosis and young (or nymphs) generally resemble small, wingless adults in general structure although their colour and markings may be very different. In some species such as cicadas, the nymphs who are specialised for burrowing appear quite different from the adults. Nymphs will moult 6 to 8 times depending on the species before they attain maturity.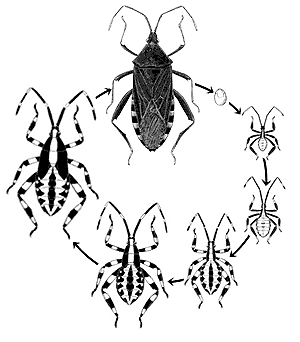 Hemiptera life cycle
Feeding
Most species of Hemiptera are plant feeders, sucking sap with many causing considerable damage to crops, ornamental garden plants such as roses, shrubs and trees. Some species are bloodsuckers of mammals and birds while others are predators that feed on other invertebrates, including some pest species and are therefore beneficial to man.
The proboscis of hemipterans contains cutting blades and a two-channelled tube. Hemipterans feed by cutting into a plant or animal and sending saliva down one of the tubes to begin digestion. The liquid food is then sucked up the other tube.
Habitat
Almost all hemipterans are terrestrial, although some groups of Heteroptera such as the Gerromorpha and the Nepomorpha inhabit freshwater habitats, living on the surface tension of the water and beneath its surface respectively. Most plant feeding hemipterans are found on the leaves, stems or bark of plants, some species aggregating in enormous numbers, while others can be found living among the roots. Some form protective waxy secretions or hard galls on the leaves and stems of many Australian plants including Acacia and Eucalyptus species.