Synonyms
Coccinella 4-pustulata Linnaeus, 1758: 367.

Diagnosis
THE SPECIES PAGES ARE UNDER CONSTRUCTION.

HOWEVER, YOU CAN SILL USE THE GENUS AND TRIBE LINKS TO GET FULLY DEVELOPED INFORMATION ON THE GENUS AND TRIBE FOR THIS SPECIES.

TO ACCESS A LIST OF SPECIES THAT ARE FULLY DEVELOPED GO TO LIST OF DEVELOPED SPECIES
Description
Length 3.0-3.7 mm. Dorsal surface predominantly black; each elytra with 2 orange marks: a anterolateral one, somewhat U-shaped, reaching the anterior margin but not the lateral one; a post-median one near the suture, not very well defined, somewhat transverse. Venter, predominantly dark-brownish to black; yellowish on epipleura basal half and last four abdominal ventrites. Body elongate, weakly convex. Head flat between eyes; punctation as large as eye facets, approximately 2 diameters apart. Eyes small, dorsally separated by more than 2 times the width of an eye; inner ocular margin slightly divergent. Antenna with scape asymmetrical, somewhat constricted in the base; pedicel barrel-shaped, about as long as scape; antennomere 3 trapezoidal, visibly shorter than pedicel; 3-8th transverse, gradually increasing in width; 8th somewhat quadrate; 9th strongly asymmetrical, about as long as 8th; 10th small and partially embedded in the 9th. Terminal maxillary palpomere slightly expanded toward apex; strongly oblique at apex, with outer side about 3 times longer than inner; terminal labial palpomere elongate, as long as penultimate segment.Pronotal surface sculptured as on head, the sculptures much weaker; punctation smaller than eye facets, shallower and sparser than on head, approximately 2 to 3 diameters apart; lateral borders truncate; pronotal base entirely bordered, the bordering line abruptly approaching the margin before it ends in a weak pronotal depression; prosternum long in front of procoxae, about 3 times longer than prosternal process widest width. Elytral surface sculptured as on pronotum; punctures stronger than on pronotum, slightly deeper and more concentrated, about as large as eye facets; lateral margin finely reflexed. Abdomen with ventrite 6 weakly emarginate; surface of ventrite 1 micro reticulate between punctures.
Male
Tegmen relatively short, about 1/2 the abdomen length; penis guide asymmetrical visibly shorter than parameres; parameres densely setose at apex, the setae long; strut about as long as tegmen.
Female
Externally identical to male.
Variation
The sharply marked elytral pattern of red on black, typical of central and northern European specimens, is frequently blurred when the species breeds at temperatures of 20 centigrade or above, a condition frequently found during summer around Perth.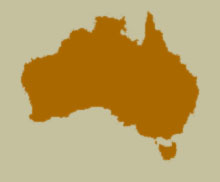 Distribution and Biology
Europe, Middle East, Mongolia, and Russian Far East. This species has been imported to Australia to control Chermes sp. (Aphididae) on introduced conifers, mostly pine (Pinus radiata). It was released in ACT and New South Wales during 1934-1939. There are well established populations of this species in the south west of Western Australia. Recent material from Victoria also suggests an established population there. Although adults have been taken on various trees and shrubs, including Banksia spp., Eucalyptus spp., and the imported conifer (Pinus radiata), there are no records of larval captures and so there is no definite information concerning essential or alternative prey in Australia.
Species References
Linnaeus, C. 1758. Systema naturae per regna tria naturae, secundum classes, ordines, genera, species cum characteribus, differentiis, synonymis, locis. Tomus I. Editio decima, reformata. Laurentii Salvii, Holmiae. 823 pp.
Slipinski, S.A. 2007. Australian Ladybird Beetles (Coleoptera: Coccinellidae) their biology and classification. ABRS, Canberra. 286 pp.
Slipinski, A. and Giorgi, J.A. 2006. Revision of the Australian Coccinellidae (Coccinellidae). Part 6. Tribe Chilocorini. Annales Zoologici (Warszawa), 56(2): 265-304.
[ Top ]