Synonyms
Robert popei Slipinski, 2007: 134.

Diagnosis
THE SPECIES PAGES ARE UNDER CONSTRUCTION.

HOWEVER, YOU CAN SILL USE THE GENUS AND TRIBE LINKS TO GET FULLY DEVELOPED INFORMATION ON THE GENUS AND TRIBE FOR THIS SPECIES.

TO ACCESS A LIST OF SPECIES THAT ARE FULLY DEVELOPED GO TO LIST OF DEVELOPED SPECIES
Description
Length 1.0-1.3 mm. Body uniformly brown, appendages yellowish brown. Dorsum covered by mixture of a short and recumbent yellowish pubescence intermixed sparsely with much longer, darker and erect setae. Pronotal disc moderately convex medially with dorsal punctures 1-3 diameters apart, interspaces shiny; lateral borders distinctly thickened anteriorly in lateral aspect forming a double edge for 3/4 of its length; the area between both edges convex, coarsely punctured and setose. The crescent-shaped pit on the prothoracic hypomeron is separated distinctly from the lateral edge but posteriorly its outer margin joins the narrow lateral margin carina. Elytra 2 times as long as pronotum, distinctly narrowing in the apical third; disk punctured and setose, similar in arrangement to pronotum; lateral margins narrow, weakly serrate, but entirely visible from above; epipleuron narrow, incomplete at apical 1/4.
Male
UNDER CONSTRUCTION
Female
UNDER CONSTRUCTION
Variation
UNDER CONSTRUCTION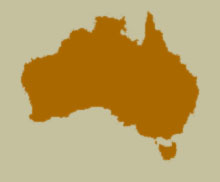 Distribution and Biology
UNDER CONSTRUCTION
Species References
Slipinski, S.A. 2007. Australian Ladybird Beetles (Coleoptera: Coccinellidae) their biology and classification. ABRS, Canberra. 286 pp.
[ Top ]